Tell us about the history of Saitoku.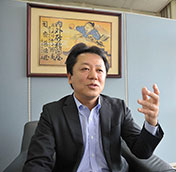 Saitoku was founded on 1872. The year 2019 marked the 147th year since our company's foundation. The company was originally located on 1-chome of Oomichi, Tokushima-shi, where the Tokushima Washington Hotel Plaza now stands. Tokuzo Saito of our family started a domestic and foreign sugar wholesale business. The trade name Saitoku was derived from a combination of the founder's first and last names, and his name was succeeded by four generations that followed. Then in 1972, the fifth generation successor Yoshihito Saito changed the corporate name to Saitoku Inc. and assumed the role of president and representative director. In 1983, the head office was moved from its place of founding to its current location in Tokushima Sogo Ryutsu Center. I assumed the position of president in 2006 as the seventh generation representative of the company.
Sugar has had a long history since it was first introduced in Japan about 1,200 years ago, during the Nara period. At the time, sugar was not used for flavoring food, but was used as medicine. It was regarded as being so valuable that it was often used as offerings placed in front of The Great Buddha of Nara. Sugar cultivation began in Japan during the reign of Tokugawa Yoshimune, the eighth Shogun of the Edo period. However, very little sugar was produced within Japan, and was a highly precious commodity that was out of the reach of common people.
At the time of our company's founding, the availability of sugar relied heavily on imports. After the First Sino-Japanese War, domestic sugar production increased dramatically. However, even as the times changed throughout the Meiji, Taisho, and Showa periods, sugar remained a valuable commodity. Demand exceeded supply, and sugar itself had great competitive power. Even in the turmoil and chaos of the First and Second World Wars, our company held on to the management principle of "Never deceiving our customers," one which all employees still uphold to this day.
Becoming a general food trading company
It must have been around 1971 when the dietary culture of Japan went through a major transition.
To be more specific, Japanese tastes began leaning more towards western cuisine.
In an effort to meet the trends and demands of the future, our company began dealing in products other than the main conventional products, such as sugar and wheat flour, and expanded the line of business to include confectionary and pastry products, as well as refrigerated and frozen foods. This is how we began laying the foundation as a general food trading company.
We invested in plant and equipment, such as refrigerated warehousing, which allowed us to handle products which require strict quality control, such as chocolates and dried fruits.
The three "foundational Saitoku principles" and our three business creeds
At the time of our transition from being a family trade to becoming a company, we established the fundamental principles of our company. These are the three "foundational Saitoku principles" and our three business creeds.

The foundational Saitoku principles are as follows
•To contribute to the improvement of dietary culture and the advancement of the food industry
• To gain dignity through the work
• To strive to achieve happiness for employees and families

We also add our business creeds of "Passion, Loyalty, and Discipline" to these principles. These are the fundamental concepts of our business philosophy and conduct.
Valuing the trust relationship with our customers
I firmly believe that the reason Saitoku can continue to exist today is thanks to the lasting relationships built on trust that we've maintained with our valued customers.
Even during challenging times such as the oil crisis when sugar became scarce, we have always strived to reserve enough stock to provide our customers with what they needed.
I am proud to this day of our company's dedication to never inconvenience our customers by restricting sales, to never deceive the society we serve, and to always deliver our products through safe and stable practices.
Aiming to become a company that proposes comprehensive solutions
Saitoku aims to become a company that proposes comprehensive solutions.
Instead of simply being a food products wholesaler, we want to expand our scope of business to provide total support for our customers by accurately anticipating the future of the food industry and providing the right solutions.
In order to achieve this, we must plan a transition from the traditional stock-and-sell method of business to a more actively creative business model. We aim to realize this ambition by valuing the voices of our customers and engaging in communication, strengthening trust, and making sure that each and every employee fully understands our customers' needs.
We will continue to ensure that the manufacturers and our stock managers maintain strong communication to prioritize the demands of our customers. It is our driving ambition as a company to operate on a customers-first basis. Finally, we strive to give our customers the confidence to say, "Let's leave it all to Saitoku."